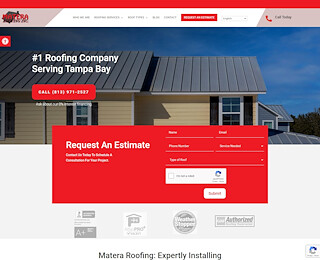 The kind of roofing that you have on your home means a lot more than just how it looks. Beyond durability and aesthetics, there are plenty of benefits of having asphalt roofs in Tampa. With all of the different roofing options you can choose from, the more you know about the best roofing materials for Tampa homes, the easier it will be for you to ensure you have the right installation. 
Our team here at Matera Roofing Inc. wants you to know why we believe in our asphalt roof services in Tampa and the surrounding areas. We have put together 5 of the top benefits for having asphalt roof and shingle installers on the job to give you the results you are looking for: 
Easy to Install – There are certain roofing materials that are difficult to install, which often translates into higher costs for the homeowner. While you may argue that the average homeowner may not have to worry about this difficulty, it still plays a role in overall cost and the time to have the roofing project complete from start to finish. You will also see that your asphalt roof and shingle repair costs will be lower in the long run.
Relatively Low Energy Consumption – The manner in which a roof will consume energy matters when taking a look at heating and cooling costs. Some asphalt roof shingles come in a variety of cool colors that will lend to their ability to retain reflectiveness. We will be happy to discuss this with you as you plan out your new installation of asphalt roofs in Tampa.
Environmentally Friendly – Asphalt is a great option if you are looking for environmentally friendly materials because they are recyclable. There are also options for shingle disposal, which helps eliminate the percentage of shingle materials that get out into the environment.
Improved Longevity – Asphalt roofs in Tampa FL also have a great lifespan, especially if they are well-maintained. You could see that you get anywhere from 20 to 30 years out of your new roofing installation so that you have great value for the money.
Durability – When compared to a range of other roofing materials, asphalt is also very durable. This is vital to take into consideration, given the number of tropical storms that we often see in and around the Tampa area. These materials also have venting technology that allows heat and moisture to release rather than being trapped in the roof.
Are you thinking that asphalt roofs in Tampa will be your best option when it is time to put on a new roof or replace your existing roof? If so, then Matera Roofing Inc. is the team to call. We would be happy to help you with any concerns or questions that you have about roofing materials, repairs, and installations. Call us to at your earliest convenience to get a free inspection and quote at 813-971-2527. We strive to be the leading roofing company in the area, and we always offer our customers the finest materials with stellar results.
Asphalt Roofs Tampa
Matera Roofing
813-971-2527
1104 Salem Watch Pl
Dover
FL
33527
View Larger Map