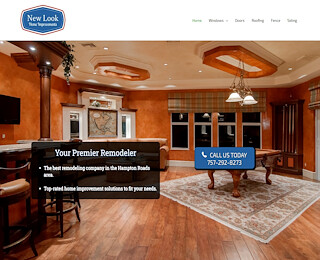 The choice of whether to repair your windows or replace them will depend on where the issue lies and the extent of the problem. If the window frames, glass, or sashes are worn, inefficient, or damaged, you might require new windows. You may also be wondering if window replacement in Chesapeake is worth the cost and whether you should replace the glass or entire window. This will be determined by the condition of your windows. It's not advisable to restore old windows if new ones are less expensive and stronger.
At New Look Home Improvements, we are among the best window replacement companies in Virginia that provide superior quality, energy-efficient window replacement services. We have the best window replacement installers in Chesapeake who are professional and will arrive at your property to finish the job in a timely manner.
Window Repair Vs. Replacement
Properly functioning windows keep your house secure, are energy-efficient, and provide beautiful views. But if they don't offer these benefits, it may be time to have them repaired or replaced depending on the issue.
If your frames are made from wood, years of neglect can cause rotting. The result is windows that don't sit perfectly in their frames, leading to energy-inefficient drafts. If you detect the problem sooner, you can repair your windows using epoxy, then sand and repair them. On the other hand, severely rotted windows will require removing the glass to rebuild the frame, which can cost as much as having your windows replaced. In such a case, it's best to have them replaced than repaired. For window replacement, we offer top of the line windows installation in Chesapeake, VA.
Trouble Locking or Opening Windows
Problems with closing or opening your windows can be a result of issues with the tracks. At times, all you need to do is get rid of the accumulated dirt in the tracks and add a quality lubricant or tighten the hardware.
If track cleaning and lubricating don't work, and the hardware appears okay, you might have a warped window frame. Changes in humidity and temperature can make it hard to open or close your windows. Also, as your house settles, it may apply pressure on the frames. In both situations, your windows will likely need a replacement.
Your windows are regularly exposed to the elements, which causes them to become fogged or dirty with time. If the condensation buildup is on the exterior window panes, you can clean them or enlist the services of professional window cleaners.
However, if the haze is between the panes, this is a sign of a faulty window pane and requires replacing your window unit or pane. Ignoring a failed seal can cause moisture to penetrate your walls and lead to mold growth. It also considerably decreases the energy efficiency of your windows.
Premier Window Replacement Services
When it comes to window replacement in Chesapeake, what sets us apart from other window contractors in Chesapeake, VA, is our ability to provide affordable, prompt, and second to none services. We are your trusted source of Provia windows that come with a double lifetime warranty. Contact New Look Home Improvements to consult with a premier remodeler: 757-292-8273.
Window Replacement Chesapeake