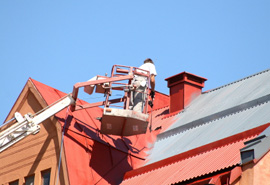 Quality commercial roofing to serve your needs is what we deliver. In a world of expanding eco-consciousness and eco-minded consumers, we are one of the forerunning commercial roofing companies that answers the call to meet both the needs of our clients and those of the environment.
Call 1-866-374-3142 to schedule a free inspection
and evaluation of your commercial roofing project
Superior roofing products and high quality craftsmanship go into each and every roofing project we perform. We design each of our projects individually. We consider each and every building to be as unique as our clients, and, as such, we know that the needs of one building and client do not universally dictate or set a standard for the needs of another. Our pricing and installations are also determined on a case by case basis; thus, we can more accurately and appropriately apprise you of the actual challenges, costs and time associated with initiating, performing and completing your roofing project. Unlike some of our competitors, we neither cut costs nor compromise workmanship in order to get the job done.
If you are looking to install a new roof or aiming to revitalize the quality of an existing one, we offer a variety of products and services to suit your needs:
Metal Roof Coating to prevent and repair leaks
Single-ply Flexion and Hy-Crown systems to reduce 85% of the sun's ultraviolet rays
Acrylic Reinforced Ply for five layers of seamless, flexible leak protection
EPDM Roof Coating to economically revitalize and improve the performance of an aged or deteriorating roofing system
Carbon footprints, thinking "Green" and energy efficiency are all concepts that are included within the new definition of "quality" that has been adopted by the modern consumer and marketplace – and the commercial roofing industry is no exception to this contemporary standard. That is why we utilize only the finest products to produce, restore and maintain your roofing system. From basic metal roof coating to prolong the life of your existing roof to the installation of a Hy-Crown, heat-reflecting roofing system to protect your assets and reduce your energy consumption, our goal is to provide you with the most durable, efficient and eco-friendly products available.
As members of the National Roofing Contractors Association (NRCA) and as an accredited, listed company in the Better Business Bureau directory, our industrial, residential and commercial roofing company is renowned for both its installation and maintenance services. Regularly scheduled, annual inspections can save you thousands of dollars in extensive repairs and total roof replacements. Small leaks and minor compromises of the roofing membrane of your residential or commercial property can lead to the accumulative deterioration of your walls and, ultimately, decrease the value of your property. Your roof is the barrier that protects you, your assets and belongings and your business from the outside elements; let us help you keep them safe.
If the roof of your residential or business
property needs attention, call 1-866-374-3142 and
speak with one of our commercial roofing experts
to schedule a free consultation and estimate
Professional Commercial Roofing
Integrity and customer satisfaction are our top priorities. We make it our objective to inspect, estimate and perform each of our commercial roofing projects professionally, on time and with you in mind. Conklin is the #1 manufacturer of roofing materials in America, and we choose them because their superior materials are a direct reflection of our pursuit to provide you with superior commercial roofing performance. We strive to forge long-term, on-going relationships with our clients. We are, after all, a part of their communities, and our work crowns the rooftops of those communities – and that is something in which we take great pride.
We provide commercial roofing in Atlanta, Georgia as well as Columbus, Macon, Athens, Albany, Valdosta, Thomasville, Waycross, Tifton and throughout the state of Georgia.