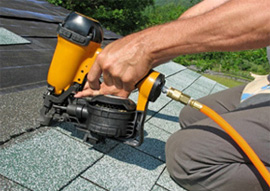 As a leading, superior roofing contractor in the state of Georgia and surrounding area, we value our reputation and approach each of our projects with your needs and satisfaction in mind. While some of our competitors make a practice of underbidding or compromising material quality in order to win a job and cut their construction costs, our practice is to focus on quality products and quality workmanship. Because of that, we consistently deliver quality results.
If you are in need of a
roofing contractor
, please call 1-866-374-3142
to schedule a free evaluation of your situation
Whether you're in need of a simple inspection on a residential, shingled roof or in need of an industrial roofing installation, we are the professional Georgia roofers with the experience, know-how and reputation to get the job done. Each of our roofing experts are well-versed and familiar with the details and techniques that go in to inspecting, creating and maintaining functional, high-quality roofing systems. We offer the following services:

We pride ourselves on the integrity that we invest in each of our undertakings and the rapport that we build with our clients. We realize that the roofing business is not an industry wherein "one size fits all," and, thus, we listen to our clients and allow them to provide us with the information and details that will better allow us to present them with the appropriate roofing contractor solutions and services to meet their roofing needs. If it's a shingled roof you need; we've got you covered. If it's an energy efficient answer to breathe new life into an old and deteriorating rooftop; we've got you covered.
Residential, commercial and industrial roofing is our specialty, and the exceptional skill with which we approach and perform each of our projects is only matched by the exceptional quality of materials that we choose to complete them. As a roofing contractor company, we are recognized as masters of our trade by Conklin, the manufacturer and supplier of the top-notch materials that we choose exclusively to create and/or maintain our top-notch roofing systems, which are comprised of the following options:
Metal roof coating to repair and preserve galvanized metal roofs
Polyurethane foam; the lightweight, durable and virtually leak proof answer to repair and preserve your roofing system without exceeding the structural load capacity
Single ply Flexion and Hy-Crown systems that improve with age, reflect the ultraviolet rays of the sun and do not shrink
Acrylic reinforced ply systems that offer 5 layers of ultraviolet-ray-reflecting, seamless protection
EPDM roof coating systems for a quality and economical solution to your repairing a weathered, failing roofing membrane
And our services do not rest solely atop the roof of your home, commercial and/or industrial property. We are a roofing contractor company that offers a full range of additional services to make your home, business and/or commercial property weather tight and energy efficient. Ask one of our experts about any of the following products and services that we offer:
Surface primers for metal, wood, stucco, concrete, brick and hardwood siding
Exterior/Interior paints and coatings – our thicker, smoother, reduced-water paint and coating products provide more solid coverage
Master Guard wood sealing products to protect your fences, decks and furniture from sun, moisture and wind damage
Caulk and sealant to make your home, business or commercial property a solid, weather-tight structure
For a free consultation of your needs,
call 1-866-374-3142 to speak to an
experienced, knowledgeable roofing contractor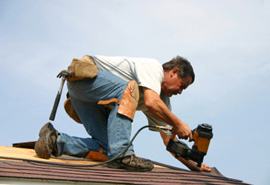 If you're searching for a roofing contractor that is willing to listen and offer solutions to your specific residential, commercial and/or industrial roofing needs, please give us a call. No job is too big or too small, and, regardless of your roofing needs, we've got you covered!
When you need a roofing contractor in Atlanta, Georgia or Columbus, Macon, Athens, Albany, Valdosta, Thomasville, Waycross, Tifton or anywhere throughout the state of Georgia, contact us for your free onsite consultation.