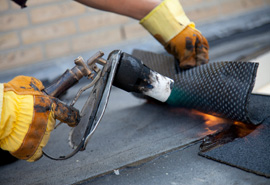 Roof maintenance and roof repair is usually the most overlooked item in asset management. When your roof is working properly it's the last thing you think about. When it's not it is ALL you can think about. The cost and hassle of roof repair can be quite substantial. A sound roof maintenance program can extend the serviceable life of your roof for many years. With the cost of roof replacement it only makes sense to prolong the life of your roof system with the regular maintenance that Top Coats Roofing can supply.
Life cycle cost is greatly reduced with a maintenance program, since years are added to the life of the roof with a simple added maintenance cost... not roof replacement cost. With regular roof inspection, most leaks can be detected and resolved before they cause extensive damage to the roof material or worse building contents. A leak that cost a few dollars to repair when found quickly can become a major expense when left undetected and unmaintained over a period time.
When it's Time for Roof Maintenance
Find out why it's best to let Top Coats Roofing keep you covered all year long. Let us start managing the most costly single component of your building assets - Your Roof Maintenance.
We proudly provide roof maintenance in Atlanta, Georgia as well as Columbus, Macon, Athens, Albany, Valdosta, Thomasville, Waycross, Tifton and throughout the state of Georgia.