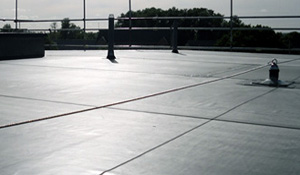 If flat roof repair is what you're looking for, you need look no further. We offer the widest variety of options and a solid team of qualified experts to help you stop your leaks and halt your drafts. If your commercial, industrial or residential roof is worn with age or falling into disrepair, it may be costing you more than you realize in inflated energy bills and structural damages.
For your free flat roof repair
evaluation, please call 1-866-374-3142
Regardless of whether your roof is EPDM, asphalt, single ply or acrylic reinforced ply, we have the experience and know-how to inspect, detect and remedy even your greatest of flat roof repair needs. We are familiar with the most up-to-date techniques and materials in the roofing industry, and we are recognized as Conklin Master Contractors. From simple spot treatments to more extensive reparation and restoration projects, our variety of products and services make us the undisputed champion of roofing companies in all of Georgia.
Whether it's a leak or a draft or simply the pursuit of greater energy efficiency, the family of products in our arsenal of flat roof repair solutions will make easy work of whatever damages time and weather have inflicted upon your structure.
We specialize in the following high-quality flat roof repair solutions:
An EPDM roofing system is comprised of thousands of linear feet of seams and fasteners, and each foot of seam as well as every fastener poses the risk of deterioration and failure. That is why each of the flat roof repair solutions that we offer begins with a thorough inspection of the seams, fasteners and superficial layers of your roofing system. In this capacity, we can not only pinpoint the source of your roofing woes but also determine if any other significant risks or damages have occurred due to the compromise in the system – not to mention any damages that may result due to moisture penetration.
Single ply flat roof repair is just one of our many areas of expertise. Whether your single ply roof has been mechanically, fully adhered or applied as a ballasted system, we have the knowledge and tools to spot and repair your problem areas with minimum disruption to your daily business.
If you've got an acrylic reinforced ply roof covering or an EPDM roof coating in need of repair, it's as easy as 1-2-3. A bit of surface preparation and a spot coat of acrylic over your problem area – or areas – and the job is done. The same applies to sprayed polyurethane foam (SPF) roofing systems. Sometimes the problem can be solved with just another application of the top coat acrylic over the cracked, damaged or compromised area.
If you're in need of flat roof repair,

search no further and call 1-866-374-3142
for a free estimate of your project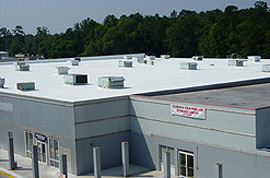 Maintaining the structural quality and function of your roof is our number one concern. Whether you're operating a business, a manufacturing facility or an apartment building, damages to your rooftop can cost you thousands of dollars a year in heating and cooling costs as well as equipment damages. Our flat roof repair services do more than merely restore your roof to working condition and protect what's sheltered beneath it. Our repairs put money back in your wallet and restore your peace of mind.
We provide flat roof repair in Atlanta, Georgia as well as Columbus, Macon, Athens, Albany, Valdosta, Thomasville, Waycross, Tifton and throughout the state of Georgia.