Flexion & HY-Crown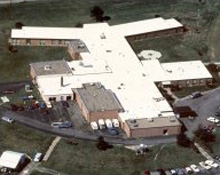 Single Ply Flexion
Protection from mother Nature
Conklin's Flexion provides a tough, yet extremely flexible, 50mil or 60mil barrier between you and the elements. The Flexion System's advanced Polyvinyl Chloride (PVC) thermoplastic formulation has been reinforced with Dupont Elvaloy and a 1000 - denier, low wicking fabric, providing superior strength, stability and flexibility over the long haul.
The Low-Maintenance Solution
Flexion's thermoplastic formulation allows the seams to be heat welded. In addition, maintenance and repair can be done with relative ease because seams can be heated without special cleaners or adhesives. Building owners can be confident in the integrity of this protective barrier because these thermoplastic seams are actually stronger than the parent product, assuring a tough, durable and waterproof life.
HY-Crown
Extra Tough
Hy-Crown single ply roofing system is extra tough because it's manufactured with hypalon a synthetic rubber made by DuPont. Hypalon is one of the most durable materials in the single-ply roofing market and has a track record of more than 35 years.
Improves with age
A Hy-Crown roof actually becomes stronger with age because the installed Hypalon material vulcanizes when exposed to moisture and ultraviolet light. An additional benefit is that Hy-Crown has no plasticizers, so the roof won't shrink or become brittle.
Superior Seam Strength
Seams on a Hy-Crown roof can be heat-welded or solvent-welded. The resulting bond is up to six times stronger than seams of an EPDM roofing system. Your chances of seam failure (and resulting leaks) are greatly reduced with a Hy-Crown job.
Return on Investment: Now that's COOL!
Building owners will be pleased to learn that the Flexion System features favorable life cycle costing (a concept foreign to traditional black roofing products available on the market). Flexion's highly reflective surface reflects away 85 percent of the sun's ultraviolet rays, keeping the roof cooler. And you know what a cooler roof means. It means that below there is a cooler space to work or a cooler place to live. In fact, a "Cool Roof" membrane can do something dark surfaced roofing could never do: pay for itself! It can pay for itself in energy savings in an average of four to seven years!
HY-Crown Features:
Resistance to chemicals, ozone, oils and moisture
Superior ultraviolet resistance
Energy efficient white reflective surface
Performs well in extreme temperature variances
Recognized by the uniform Building Code-ICBO
Breaking strength is 264 lb
Sheet has 10x10 scrim reinforcement for extra strength
Mechanically-fastened for strength and durability
Passes UL-790 Class A fire resistance test
Passes Factory Mutual I-90 wind uplifts test
Weighs only 32 pounds per square