Elastomeric roof coatings were designed specifically to protect and restore your roof with their inherent elasticity and light reflective qualities. They are another eco-friendly option to consider when a patch job won't suffice and the expense of a full roof replacement is beyond your budget.
To get a free estimate and additional
information pertaining to
elastomeric roof coatings,
please call 1-866-374-3142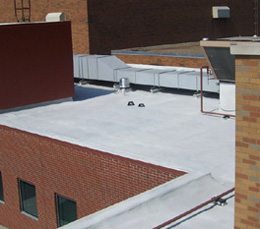 If your flat or low gradient sloping roof is aged, in disrepair or on the verge of disrepair, elastomeric roof coatings may be the viable option to explore. Specially formulated to breathe new life into your roofing system, these roof coatings are compatible with a variety of roofing surfaces:
Metal
Concrete
SPF – sprayed polyurethane foam
Brick
Barrel cement tile
Aged aluminum roofs
Single ply's and modified bitumen membranes
Metal roofing systems are prone to corrosion, and concrete systems are vulnerable to temperature fluctuations that cause the material to crack and compromise roofing performance. Our elastomeric roof coatings can help minimize these damages. Dirt and debris gathered into the cracks of brick, barrel cement and concrete roofing systems can become hosts to plant life, which further diminish the integrity of the structure. The roots of mosses, grasses and seedlings absorb and maintain moisture, which creates concentrated saturation points of water wherever they have taken root on the rooftop. This exposes the roof's surface to further risks of material degradation due to moisture penetration that can ultimately result in leaks, soaked and ruined insulation and wood rot. In other words, a roof system fallen into disrepair can generate many unexpected expenses and lend to the potential devaluation of your property.
As a solution, elastomeric roof coatings can add another 10-25 years of life to your existing roof. The polychloroprene – or synthetic rubber – of which it is made allows the material to remain flexible and resilient over a wide range of temperatures. It is engineered to withstand the fluctuating influences of molecular expansion due to the heat and molecular contraction due to the cold. When applied, the liquid, form-fitting, synthetic rubber seeps into the fissures and crevices of your old roofing system and seals your leaks and stops your drafts; thus, restoring your roof's surface to a solid, air and watertight barrier of protection.
Elastomeric roof coatings are also a part of the family of products that we offer that contribute to energy efficiency. Tinted in shades of white and gray, the finished polychloroprene surface is highly reflective and contributes to an overall energy savings of up to 35%. As a consumer, this built-in benefit, alone, is noteworthy, but add to that the contributions to the environment, and you've got a product that is not only functionally effective but also eco-friendly. If you're using less energy to heat or cool your commercial, industrial or residential property, you're contributing fewer pollutants to the atmosphere. Landfills are inundated annually with roofing materials that were demolished and replaced prematurely due to leaks and minor issues of wear and tear that mere maintenance or an elastomeric coating might have fixed.
If a patch job isn't enough, and you would like to explore the
benefits of elastomeric roof coatings, please call 1-866-374-3142
for your free onsite consultation
If you've got an old or aging roof that you are considering replacing, or if you've got an old or aging roof in need of new life, please consider the option of using one of our elastomeric roof coatings. It is a high-quality, cost effective and eco-conscious alternative that will reduce your energy expenses and prolong the life of your current roofing system.
We provide elastomeric roof coatings in Atlanta, Georgia as well as Augusta, Columbus, Macon, Athens, Albany, Valdosta, Thomasville, Waycross, Tifton and throughout the state of Georgia.