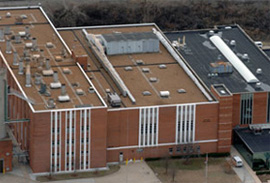 Industrial roofing projects vary in scope and size, and, from a consumer's perspective, the more extensive the project, the more daunting the task may seem. Industrial roofing, however, is one of our areas of expertise, and our goal as a company is to make the seemingly immense task of addressing your roofing needs as effortless and simple for you as possible.
For a free evaluation of your
industrial roofing needs, please call
1-866-374-3142
Whether your roof sits atop a large manufacturing facility or warehouse of industrial goods, one of the main concerns related to industrial roofing is its environmental efficiency. Is your roof protecting you and your business from the wind and the rain as well as your equipment, goods and pocketbook from the seasonally shifting temperatures?
Traditional, black, asphalt roofing systems are no longer the viable choice when one is looking to invest in long-term, eco-friendly and energy efficient industrial roofing solutions. Exposure to direct sunlight and temperatures that climb as high as 160° produce deteriorating effects on bituminous roofing products, and dark brown or black asphalt roofing products absorb heat and transfer it into the building upon which it sits. While these traditional products may have been effectual at one time, they were never efficient.
Today, however, there are roofing options that multi-task. They are not only barriers from the outside elements but also money-saving installations that work to stabilize your energy efficiency and reduce the impression of your carbon footprint. Field testing and verifiable results have helped spur the current and increasing popularity of the reflective roof – or the "cool" roof as some call it. Cool industrial roofing is created by utilizing white and/or reflective materials in the construction or finishing process of the roofing system, and they are proven to provide the following benefits during the warmest weather months:
Lower roof temperatures by 20-40%
Decrease level of heat transference from the roof to the building
Reduce cooling related energy expenses – in some cases up to 40%
Reduce environmental pollutants due to reduced cooling energy expenses
Do not be misled by the term "cool," though. Our polyurethane foam roofing and single ply roofing systems have layers of insulation built-in, which not only serve to deflect the external heat of the summertime but also to preserve the warmth generated by your furnace. So the very same roof accredited with contributing to the reduction of cooling costs in the summertime will also aid in the reduction of heating expenses during the colder winter months.
Call 1-866-374-3142 to schedule a
free industrial roofing consultation
Save Big with Industrial Roofing
The functionality of roofing systems has expanded beyond the mere task of keeping the external elements at bay. Contemporary designs are now integrated with energy savings and the environment in mind, so you may rest assured that the roofing system that you install today will ultimately lead to even greater savings tomorrow and the years that follow. Your savings will be both in money and concern for your company's contribution to preserving our precious eco-systems. Bubbling and blistered tar and cracking bituminous roofing systems are things of the past.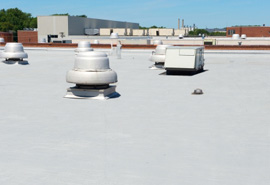 So, if you're in the market for a multi-tasking, eco-conscious, industrial roofing system and you've got questions, we've got answers. Our staff of roofing experts is at your service to explain our products and services as well as the options that would best serve your needs.
We offer reduced heating and cooling expenses and peace of mind all under one roof!
We provide industrial roofing in Atlanta, Georgia as well as Macon, Athens, Albany, Valdosta, Thomasville, Waycross, Tifton and throughout the state of Georgia.