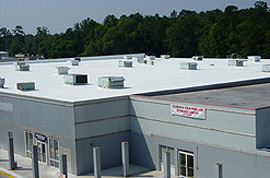 Polyurethane foam roofing can protect and preserve your new roof or breathe new life into an existing one. Insulation, durability and seamless, lightweight protection are just a few of the benefits that you can expect to enjoy when you choose to install one of our high-quality poly roofing systems.
If you're considering foam roofing
installation, call 1-866-374-3142 for a
free assessment of your project
Unlike traditional roofing materials, foam roofing is a single, sprayed-on layer of water, heat and airflow protection that is unmatched in performance. EPDM and asphalt roofing systems deteriorate over time; cracking, blistering and "alligatoring" are all tell-tale signs that your older roof is in need of attention. From disintegrating seam bonds to rusted and weakened fasteners, traditional roofing systems present thousand of linear feet of potential leaks and breakdowns. With spray polyurethane foam (SPF), however, there are no seams and no fasteners, and, therefore, no need to worry over the deterioration or failure of either. Our poly foam coating system bonds tightly to nearly any properly prepared surface and adds years of protection and/or additional life to your roof. At approximately 8 ounces per square foot, foam roofing is so lightweight that it can be applied to virtually any structure without exceeding the structural load capacity. Performance-wise, it is multi-functional and durable and even able to withstand foot traffic.
Benefits of a Foam Roofing Installation Are:
- &nbsp Lightweight protection
- &nbsp Solid, seamless coverage
- &nbsp Ultraviolet light reflection
- &nbsp Airflow/draft resistance
- &nbsp Energy efficiency and savings
- &nbsp Added insulation
The costs of heating and cooling a large commercial and/or industrial manufacturing facility are astronomical. The summer heat and winter cold can wreak havoc on the business budget as well as the performances of the workers who must operate in those conditions. When SPF is applied, the closed-cell structure of our foam roofing material prevents the infiltration of drafts from the rooftop, and this saves you money on the energy costs associated with indoor climate control.
An additional attribute of the poly foam roof is its double-duty action as an insulator. Measuring at a level 7 on the R-value scale, poly foam will provide insulating protection to a roof that has no insulation and contribute additional insulation protection to a roof with insulation already installed. The finishing coat of the foam roofing system is a light reflecting, long lasting and flexible veneer that reduces the surface temperature of the roof and, thereby, diminishes the transference of heat from the outside to the interior structure.
Strength, reliability and economical factors make the poly foam coating system a prudent and fiscally sound choice. Compared to other products and roofing systems, its built-in longevity, energy efficiency and ability to revitalize older roofs make it a superior and eco-friendly product that not only keeps excessive materials out of the landfills but also reduces environmental pollutants associated with excessive energy use and production.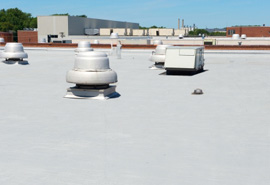 Got questions about foam roofing?
Call 1-866-374-3142 for a free
consultation and evaluation of your needs
So if you're looking to invest in a roofing product that can multi-task as effectively and efficiently as you, look no further. Foam roofing will not only provide you with years of top-notch waterproof, insulating and money saving performance, but also peace of mind. Our team of roofing experts is here to serve you and provide you with that peace of mind as well as the most cost effective, trustworthy and quality service available. No roofing job is too big or too small.
We provide foam roofing in Atlanta, Georgia as well as Macon, Athens, Albany, Valdosta, Thomasville, Waycross, Tifton and throughout the state of Georgia.