Benefits in Every Layer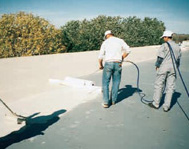 Investment Protection
A leaky roof can be one of the most frustrating and costly things about owning or maintaining a building. An acrylic reinforced ply system covers your roof with a seamless coat of protection. No seams means less chance of leaking.
Lower Energy Costs with Acrylic Reinforced Ply
By reflecting the sun's ultraviolet rays, an acrylic reinforced ply system surface stays up to 60 degrees cooler than the dark asphalt of a built-up roof. This allows owners to save money on air conditioning by keeping buildings cooler.
Flexibility for Weather Resistance
To prevent the devastating effect weathering can have on a roof, a Ply System provides both superior strength and flexibility while offering protection from the environment. The finished membrane moves as the roof expands and contracts with the heat of summer or cold of winter. The result is a longer-lasting, high performance roof.
Spunflex I & II:
Knit polyester. Very stretchy and strong. Designed for use where the parapet walls meet roof, around skylights and protrusions - in general, where the roof changes directions and incurs greater stress. Will conform to any shape roof.
Layers
White Top Coat: Highly reflective, energy-efficient protective finish.
Second Coat: Thoroughly covers fabric to make membrane complete.
Fabric: Makes membrane extra strong.
Base Coat: Adheres tightly to the roof substrate.
Existing Roof: Built-up roofs, new ply-wood, concrete, approved board stock insulation, metal roof assemblies.
Here's How it Works
Step 1:
An existing roof is throughly cleaned and prepared, making the surface as smoth and free of loose material as possible. To prepare a new roof, all seams are caulked with Kwik Kaulk. Then each joint is reinforced with a combination of base coat and a 4" joint tape.
Step 2:
The entire roof is coated with the base coat. While this is still wet, 38" wide fabric is embedded in the roof coating.
Step 3:
A second coat of base coat is applied over the fabric to complete the embedding process.
Step 4:
Finish with the energy-efficient white top coat to complete the Acrylic Reinforced Ply System which will provide a maintenance-free, sustainable roof that will last for years.
Optional Step:
Additional reinforcement can easily be added for walkways, around skylights, parapet walls, etc.
Available Systems
Conklin Benchply "Super Tough, Super Flexible" and Conklin Rapidply "Tested. Proven. Trusted."