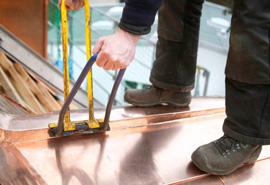 Our expert roof repair team has the experience, knowledge and know-how to bring your ailing, leaky roof back to life and up to code. From missing shingles and damaged membranes to disintegrating seam seals and rotted roof decking, we've got the expertise and solid solutions to fix any and all of your roofing deficiencies – from minor shortcomings to roofing disasters.
If you've got a leak, call 1-866-374-3142
for a free assessment of
your roof repair project
If the rain outside is pouring and then manifesting as a puddle in your kitchen or a wet spot in your living room carpet, you may have one of any number of singular or culminating issues that may potentially result in an economically challenging situation for your business and/or your family. Some issues are more obvious than others – such as damaged or missing shingles or tiles – while others may not be so obvious to the naked eye – such as a loosened or compromised joint in a metal roofing system. Regardless of your roof-related dilemma, our team of roof repair experts will evaluate, estimate and effectively restore your roof to working condition.
Here are some of the damages and costs that may be incurred due to a faulty roof:
Deterioration of roof decking
Saturation of insulation
Weakening and discoloration of ceiling tiles
Weakening of wood and sheet rock of the walls
Increased heating and cooling costs
A damaged or deteriorating roofing system, if left untreated, may diminish the value and structural soundness of your business, industrial and/or residential property. And the costs related to the damages may not be limited to the roof. So, if you see the tell-tale signs of water marks on your ceiling tiles or see the drips coming down the walls or falling in the center of the room, call immediately. A minor roof repair may wind up saving you thousands – if not hundreds of thousands – of dollars in the long run. Office equipment such as computers and printers, and files – both paper and electronic – may all be lost, which could lead to extreme strains upon the financial and operational functions of a business. In the home, electronic appliances such as televisions, theater systems, laptops and microwaves could all be ruined. Beds, couches, office chairs and carpets are just a few more of the many numbers of things in the home and office that can sustain irreparable damages and require replacement.
Protect Your Home and Yourself with Roof Repair
Not only can a leaking roof wreak havoc upon your pocket book, but it may also create an extremely dangerous situation. So don't be misled into thinking that a minor leak is something that can be overlooked or treated with a cooking pot or pile of towels. Roof repair is a vital measure of insuring your personal safety as well as that of your employees and family. Puddles gathered on the floor near electrical outlets or appliances may pose a serious risk for electrocution, and saturated, dampened walls may provide a fertile breeding ground for mold spores, which are proven to be toxic and dangerous for you, your employees and your family. Weakened, saturated or damp ceiling tiles and sheets of dry wall can begin to crumble and fall and present a risk of injury due to collapsing or falling debris. Annual inspections and maintenance can help detect and treat lesser roof repair issues before they lead to costly, roof-related crises.
Do you need a bit of roof repair?
Call 1-866-347-3142 for a free
consultation with one of our experts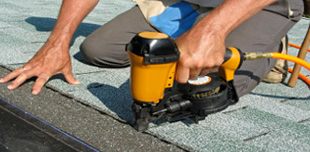 From the minor to the major issues that you may face with your roof repair needs, we've got the team of seasoned specialists to serve you best. Nobody wants to be confronted with the challenges and costs of major repairs to their roofing system, but, if you're in need of roof-related services, we've got you covered.
We provide roof repair in Atlanta, Georgia as well as Macon, Athens, Albany, Valdosta, Thomasville, Waycross, Tifton and throughout the state of Georgia.