If you're exploring roofing systems and need to determine which products will best suit the structural needs of your commercial, industrial or residential projects, our certified team of experts are here to answer your questions and provide you with the insight and information to confidently choose the roofing solutions that are right for you.
For a free consultation to determine
which of our roofing systems
will best serve your needs, please call
1-866-374-3142
Ask us About Any of the Following Roofing Systems and Services We Offer:
EPDM roofing and coatings
Metal roof coatings
Single ply roofing
Acrylic reinforced ply roofing
Spray Polyurethane Foam (SPF)
Shingle roofing
Roof coating roofing systems are an economical and eco-friendly choice to consider when your budget will not accommodate a full roof replacement. They add years of additional life and performance to your existing or aged roof. Whether it's metal, asphalt or Single Ply, we have the products specifically engineered to thoroughly coat and adhere to the various types of materials that are used in contemporary roofing construction. Roof coatings are applied as liquids, which penetrate and fill in cracks to effectively put a stop to leaks and drafts. The bright white finish of our roof coating products is light reflective and aids in the reduction of external heat transference into the structure upon which they sit – and, more importantly, they are proven to contribute to the reduction of your heating and cooling expenses.
If you're looking for options in roofing systems that will provide long term performance and energy savings, our selection of single ply, acrylic reinforced ply and spray polyurethane foam roofs will provide you with decades of protection and service. Each is a part of the family of "cool roof" systems that are now growing in popularity and becoming the prevalent Green, eco-friendly choice of today's consumers.
Single ply roofing systems are comprised of tough and flexible synthetic rubber that neither shrinks nor becomes brittle with age. In fact, our single ply roofs actually strengthen over time due to the process of vulcanization which occurs naturally due to repeated exposure to moisture and the heat of the sun. Acrylic reinforced ply roofing is very similar to the single ply roof except that it has the added benefit of an acrylic top coat, which is flexible and completely covers the seams of the ply material, thereby greatly reducing the risks of leaks.
Polyurethane foam roofing is unbeatable in leak and draft protection as well as energy saving performance. Spray-installed in a single, smooth layer, SPF roofing is a lightweight, multi-tasking solution that seals your leaks and drafts, insulates your rooftop and increases the energy efficiency of your commercial, industrial or residential property. It measures as a 6 on the R-value scale of insulation, which will either provide insulation to a structure that had none or provide even greater insulation to a structure with insulation already installed.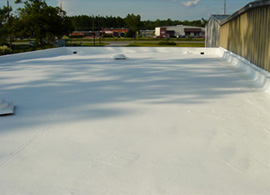 If you're in the market for a new roof,
we've got a bevy of roofing systems from
which to choose. Call 1-866-374-3142
for a free evaluation of your needs.
Our selection of high-quality roofing systems offers solutions that fit your roofing needs as well as your budget. From metal, EPDM and asphalt coatings that add life to your existing roof to new roof installations, each of our products is designed to provide you with energy efficiency and high-quality performance.
We provide roofing systems in Atlanta, Georgia as well as Macon, Athens, Albany, Valdosta, Thomasville, Waycross, Tifton and through the state of Georgia.