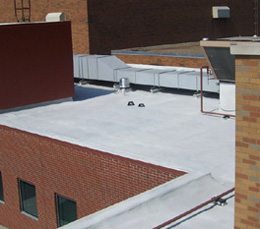 The goal of our commercial roofing company is to provide you with quality, expert service and results. Schools, churches, hospitals: You name it and we've got you covered. Whether you're looking to install or restore or replace your commercial roofing system, no job is too big or too complicated for our team of roofing specialists.
Call our commercial roofing company
with questions about your project, and
we'll provide you with a
free consultation and estimate
1-866-374-3142
For more than a decade, we have been providing the very best in quality roofing products and services, and our experience has put us head and shoulders above the competition when it comes to planning, performing and completing your commercial roofing project. Our commercial roofing company offers a wide variety of products and solutions that are specifically engineered to fit the structural and material needs of your building and budget. From simple rooftop restorations to complete roofing removals and replacements, our high quality coatings and roofing systems are guaranteed to provide you with long lasting, energy efficient performance for years and decades to come.
A Commercial Roofing Company with Many Options and Services:
EPDM roofing and coatings
Spray Polyurethane Foam Roofing (SPF)
The advantages of each system vary. EPDM roofing systems, for instance, come in sheets that measure up to 50 feet wide and 100 feet long, which decreases the number of seams and seam connectors on the surface of the roof. This effectively reduces the number of opportunities for leaks to form, and, when you invest in an EPDM roof coating from our commercial roofing company, you effectively seal the material seams altogether and reduce the chances of leak and draft formation even further.
Metal roof coatings are applied in a five-step sealing process that addresses all of the vulnerable points on your rooftop – all without disrupting your day to day business, and, as a functioning commercial roofing company, we know how each and every day of business contributes to the overall success of your company. First, the surface is power washed of dirt and debris. Second, each of the end laps, screw heads, washers and openings are sealed with caulking. Third, flexible, fabric tape is applied to the vertical joints and horizontal seams. Fourth, a reflective base and top coat is applied over the fabric tape seams, and, finally, fifth, the white, reflective top coat is applied over the entire roofing system to create a smooth and seamlessly sealed surface.
Single ply and acrylic reinforced single ply roofing systems are built to withstand high heat and extreme temperatures. They are designed using a flexible, synthetic rubber that stretches and re-shapes in response to the molecular expansion and contraction of the building upon which it sits. Temperature extremes can make high demands of your roofing systems, but our single ply and acrylic reinforced single ply systems can take whatever Mother Nature has to offer, and, unlike natural rubbers, the synthetic rubber material of the ply roofing systems does not grow brittle with age.
Our commercial roofing company is also one of the leading providers and installers of spray polyurethane foam (SPF) roofing. SPF is designed to meet all of the practical standards that you would expect from a traditional roofing system, but, unlike the others, this one comes with some built-in benefits. The SPF roofing system produces a solid, smooth, closed-cell surface that virtually eliminates any and all worries over leaks and drafts. It is also a level 7 on the R-value scale of grading insulation, which means it provides insulation where there was none and increases insulating protection where insulation was previously installed. It is also a member of the "cool roof" family with the ability to reflect the sun's ultraviolet rays and heat to increase the fuel efficiency of the structure over which it is installed.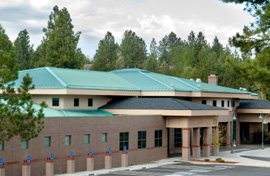 If you're in search of a top quality,
dependable commercial roofing company,
give us a call and get a free assessment
of your roofing project 1-866-374-3142
Contact us when you need a commercial roofing company operating in Atlanta, Georgia as well as Augusta, Columbus, Macon, Athens, Albany, Valdosta, Thomasville, Waycross, Tifton and throughout the state of Georgia.